Enjoy the feeling of being without clothes?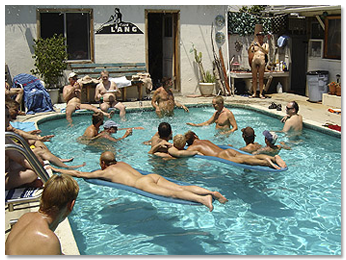 Some of us prefer being nude indoors, others like the outdoors for the natural feeling of fresh air and sunlight against our skin. Many enjoy the company of a group at the beach, desert, or nudist resort; others enjoy a hiking trip or barbeque at a friend's home. Gathering together, we have a common bond of enjoying the company of naked men.
Los Angeles Nude Guys, Inc. (LANG) exists for gay and bisexual men who practice and appreciate nudity with other men. We are a social club of approximately 250 members which fosters meaningful friendships and
good times.
Parties and other activities are primarily held indoors during the winter, while outdoor events are scheduled during the summer and, as weather permits, during the rest of the year. Outdoor events include Jacuzzi and pool parties, day hikes, weekend trips to Palm Springs, and other special events.
---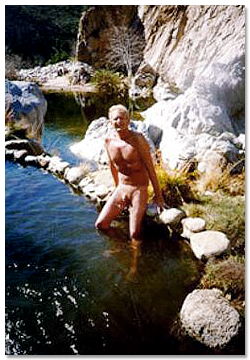 We are a happy, smiling, friendly, and fun-loving group of guys who enjoy laughing, hugging, and touching. LANG stresses nudism as a way of life, especially for social and recreational activities.
LANG believes that everything about the human body is natural and the best place
for men to appreciate their bodies without clothing is in ordinary settings, whether at home or outdoors.
Yes, we are sexual beings, but that is simply part of the whole package, not the main purpose for sharing our nakedness. LANG respects all of its members for their individuality, whether or not they choose to express their sexuality, and shall endeavor to respect individual sensibilities. That is the primary consideration.
Our monthly club newsletter includes a schedule of upcoming LANG events, information about gay nudist gatherings and adventures, and information about other nude events and recreational activities.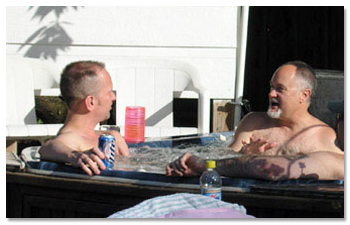 LANG has been organizing nude social and recreational events and activities, bringing together gay and bisexual men who enjoy a healthy, nude lifestyle, and encouraging an active interest in social nudism since 1987.
LANG is affiliated with Gay Naturists International (GNI) and is among nearly 200 men's naturist groups throughout North America, the Pacific Islands and Europe. GNI and its affiliated clubs now have over 6,000 members in 12 countries who enjoy nude recreational and social activities.
Next: Learn about the variety of nude social and recreational activities LANG organizes throughout the year.

---

Help Earthquake Relief
Please join other LGBT people in sending support to Japan and Haiti Earthquake Relief - make a donation through Rainbow World Fund. Their disaster relief partners include CARE who is in Haiti providing emergency food, safe water, plastic for shelter, blankets, and basic medicines. 100% of your donation will go to these life saving services.